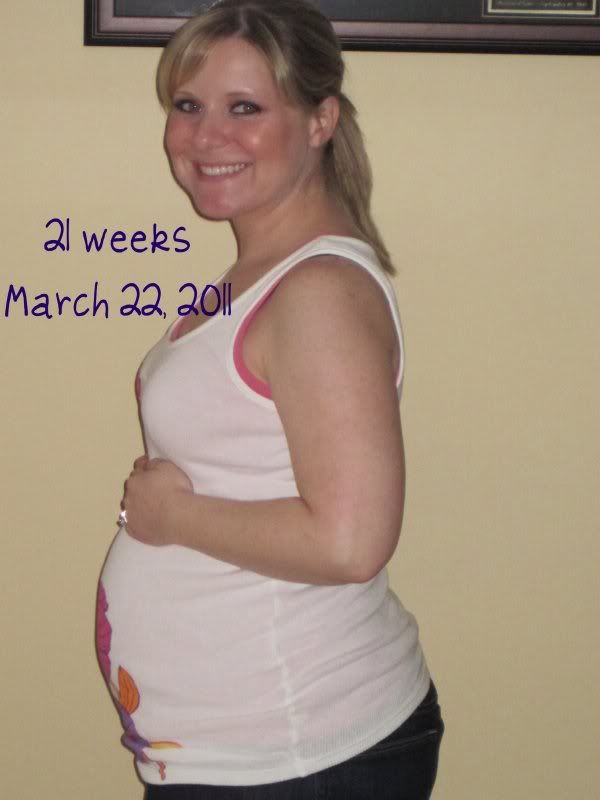 How far along?
21 weeks
Due Date:
August 2, 2011
Total weight gain/loss: 8 pounds
Maternity clothes? Yep, mostly everything except a few comfy pants, sweatshirts and longer shirts still work.
Stretch Marks?
Nothing yet....hope it stays this way. I've been using Bio Oil twice a day on my belly and chest at the advice of my sweet little friend, Hadleigh, who had 37 week twins and not ONE stretch mark!
Sleep: I'm still waking up several times a night to change positions, and of course there are the 1-3 bathroom trips every night. I guess I'll probably just never sleep the same. Maybe this is getting me ready for how motherhood will be.
Best moment this week: March Madness officially started this past week and another year of entertaining and cooking went by without a hitch. It's always so fun to hang out with everyone, eat good food, and the weather was pretty good. My bracket went to hell in a handbasket pretty quickly though this year. :( All in all, I wouldn't trade this time of year in our house for anything.
Movement:
Oh yes!! When this little girl gets going, she is out of control! I can't imagine how uncomfortable it will be when she's bigger. Right now I just enjoy her crazy movements. And now you can even feel the jabs from the outside. Still trying to get the timing right for Matt to feel it.
Food cravings: As gross as it sounds, I've had a thing for Ramen noodles lately. Don't judge me...
Gender:
Girl (at least I hope she still is or I'm gonna have to start returning some things)
Belly Button in or out?
Innie
What I miss:
Sleeping soundly through the night and having a drink with friends after work.
What I am looking forward to:
Only 3 more weeks til viability!!!!!
Milestones:
Your baby now weighs about three-quarters of a pound and is approximately 10 1/2 inches long — the length of a carrot. You may soon feel like she's practicing martial arts as her initial fluttering movements turn into full-fledged kicks and nudges. You may also discover a pattern to her activity as you get to know her better. In other developments, your baby's eyebrows and lids are present now, and if you're having a girl, her vagina has begun to form as well and she has her lifetime supply of eggs.